Developers of Tablets With Drug-Free Break Layers
Simple, Accurate, Innovative
Accu-Break tablets incorporate a drug-free break layer in every tablet. The tablets may be swallowed whole, but if desired, may be split through a drug- free layer to obtain exact smaller doses.
Since the drug layer is pre-divided and is separate from the break layer, it isn't necessary to split the tablet accurately in order to get an exact partial dose.
Great Inventions, Great Medicine:
The Accu-Break Advantage
Accu-Break tablet technologies address the individualized dosing needs of a diverse patient population. The technologies have broad applicability across multiple therapeutic categories, pharmaceutical segments (e.g. OTC, veterinary, ethical), formulations and combinations.
Patients and physicians benefit by having a dosage form which offers easy and accurate dose flexibility.
Many widely prescribed medications undergo titration and/or dose adjustments. However, the majority of oral dosage forms are only available as either unscored tablets or capsules, making adjustments in dose costly, and potentially difficult and unsafe if tablet splitting is utilized.
Accu-Break technologies enable patients to easily and safely split their tablets into exact smaller doses, providing the flexibility they desire and the doses they need.
Manufacturers can create unique, multi-dose tablets, giving them a competitive advantage by providing an enhanced dosage form for patients, while differentiating their product in the marketplace.
ACCU-BREAK Pharmaceuticals, Inc. Introduces
ACCU-BREAK™ Technologies
Finally, a technology that allows tablets to be easily broken by hand into precise smaller doses.
Exact half doses when split
Exact quarter doses when split

Drug-free layer (tan)

* Tablets may be bisected,
trisected, or quadrisected
Drug "A" and Drug "B" may be separated from each other

Novel Split-Drug Combination Tablet for Life Cycle Management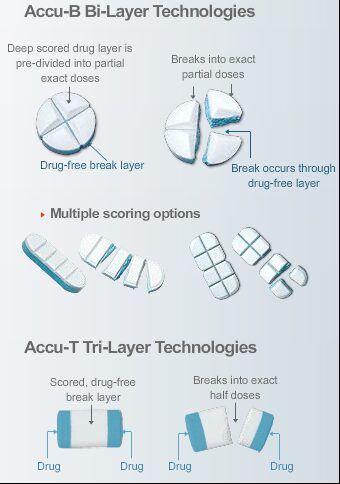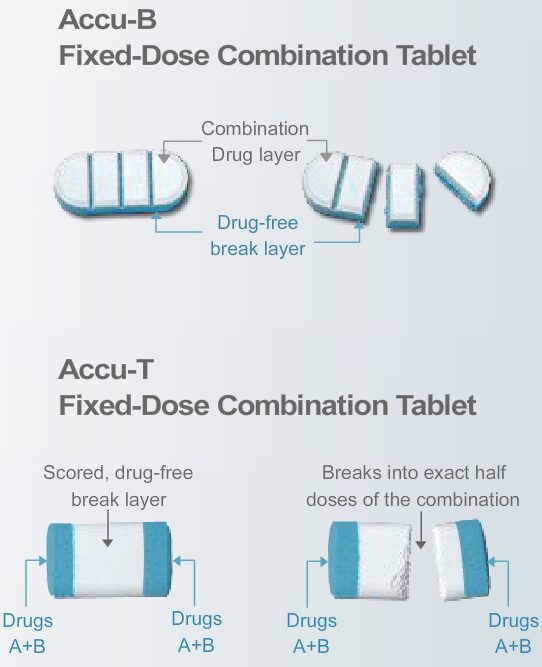 Combination drug products have become increasingly popular and accepted as a means to simplify therapy and improve patient adherence. The drawback, however, is the lack of dose flexibility with traditional fixed-dose combination dosage forms.
Accu-Break technologies introduce dose flexibility into fixed dose combination tablets. For the first time, combination therapy tablets can be made in a form that allows easy and accurate dose adjustment of both active ingredients via risk-free tablet splitting.
Accu-Break titratable combination tablet technologies represent a clinically advantageous life cycle management strategy for manufacturers marketing or developing combination drug therapy products.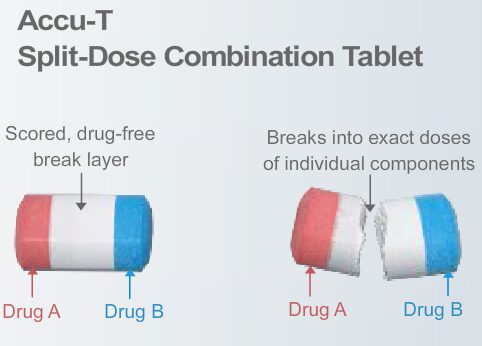 These truly novel combination tablet designs provide the convenience of fixed dose combination tablets with the flexibility of separate prescriptions. Like other fixed dose combination products, these technologies allow for the combination of two drugs within a single tablet.
However, unlike any other product on the market, Accu-Break split dose combination technologies enable the separation of the two drugs if desired simply by splitting the tablet through the drug-free break layer.
This flexibility is unavailable with current traditional fixed dose combinations and the patented technologies may be used for product differentiation and life cycle management.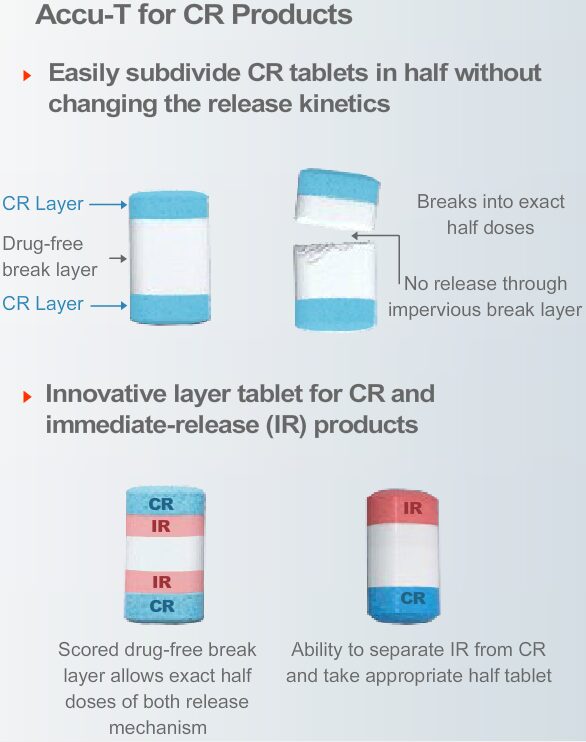 Controlled-release formulation products are a popular means to reduce the pill burden on patients. However, dose adjustments via tablet splitting for most CR products are almost impossible due to the potential for changing the release kinetics of the tablet.
Patented Accu-Break technologies create unique tablets that contain a drug-free break layer that can be easily divided in half without changing the release kinetics of the whole tablet.
Patients can easily subdivide the tablet into exact halves through the center, drug-free break layer. The technology can be adapted for both CR and immediate-release products, allowing for exact halves of both release mechanisms or the ability to separate IR from CR components and take the appropriate half tablet.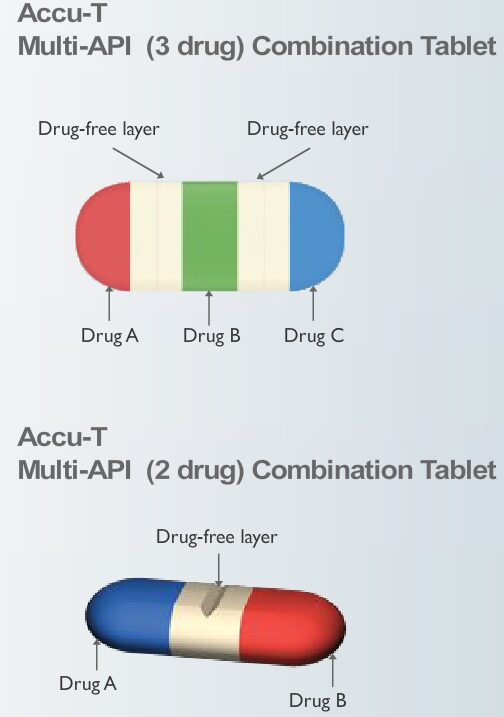 Companies seeking solutions for combining incompatible Active Pharmaceutical Ingredients (APIs) in a single tablet need not look any further. Accu-T layered tablet technologies separates incompatible APIs with drug-free layers resulting in a single multi-API combination tablet.
The Accu-T layered tablet technologies enable the creation of multi-API combination tablets where incompatible APIs are separated by drug-free layers resulting in a single compressed tablet.
Clinical Research
Creating Efficiencies in Clinical Trials
New drugs take anywhere from ten to fifteen years from discovery to FDA approval, with a cost of $500 million to $1 billion. Phase Il dose-ranging trials represent a major portion of the clinical trial process both in time and money, taking anywhere from I -3 years to complete and involving hundreds of patients.
With Accu-Break technologies, a single tablet can cover multiple doses, which can reduce clinical trial supply needs and be valuable during dose-ranging trials saving time, money and reducing complexity in the manufacturing and drug development process.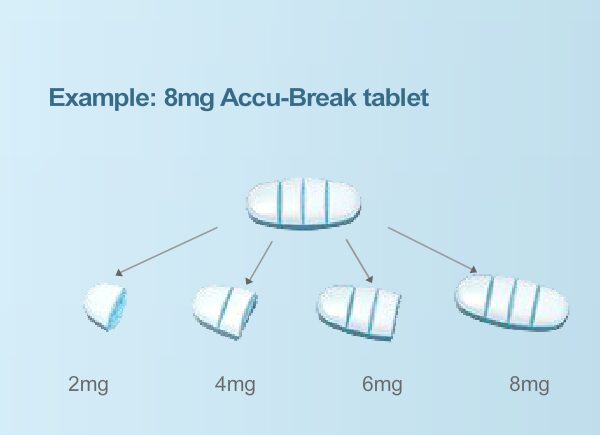 The small animal veterinary market presents many pharmaceutical challenges and opportunities. Pets are living longer and increasingly developing chronic medical conditions. Veterinarians are challenged to provide appropriate and accurate doses of medicines given the inherently large differences in weight and metabolism within and among species.
Accu-Break multi-dose tablet technologies provide dosage forms that can be safely and easily customized to meet diverse small animal needs while reducing strain on storage capacity and wasted inventory.
Benefits to ...
Manufacturers
Novel, differentiated dosage forms

Patented and patent pending technologies; worldwide rights reserved

Reduced number of commercial doses means a lower cost of finished goods

Low risk, low cost technology implementation

Concept endorsed by veterinarians

Anti-counterfeiting characteristics
Confidence in precision dosing

Flexible tablets to span the dosing range for a diverse patient population

Relieve strains on pharmacy storage and inventory

Eliminate risks, inconvenience and waste associated with subdividing conventional tablets
Confidence in accuracy of dose

Easy to subdivide tablet by hand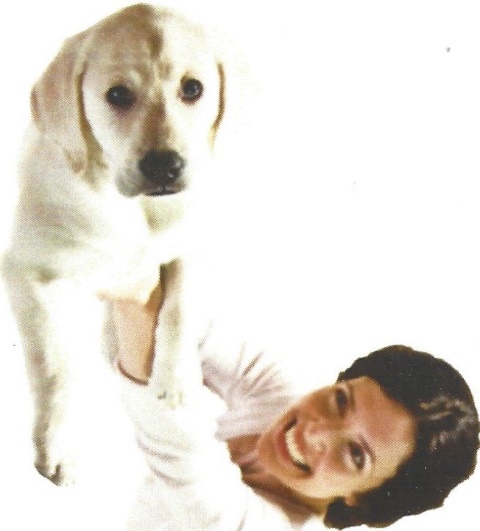 Accu-Break™ Technologies For Veterinary Medicine
Multi-dose tablet technologies to meet the needs of a diverse patient population
Accu-Break™ Technologies For Veterinary Medicine
Multi-dose tablet technologies to meet the needs of a diverse patient population